Welcome to the oldest (and sweetest) Carnival in Italy!
Da Elisa
Pubblicato il 26 Gennaio 2018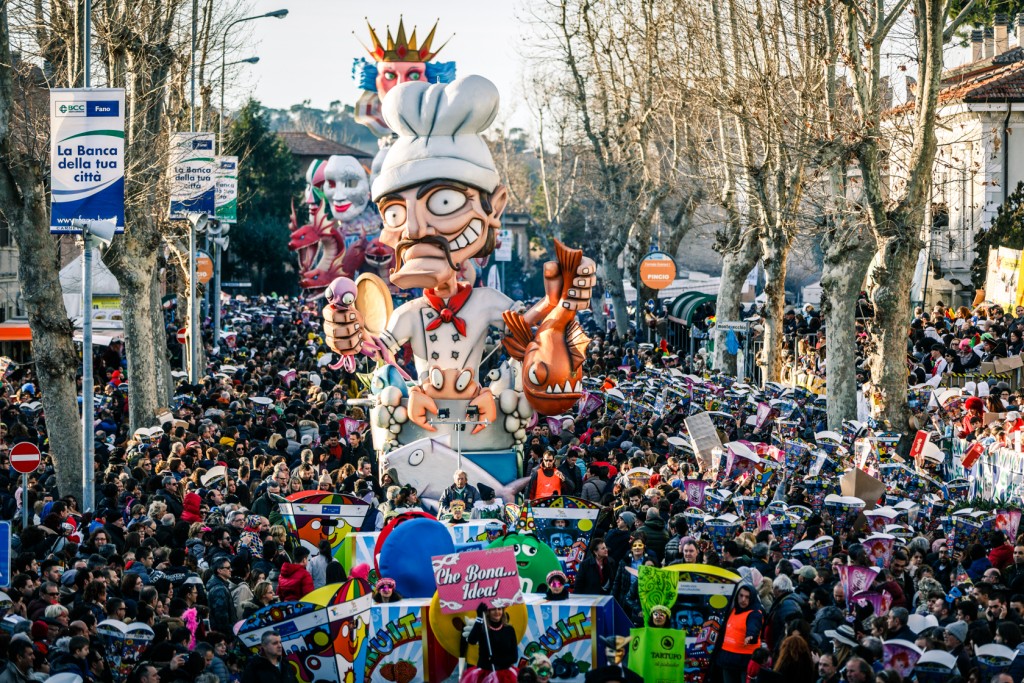 Ladies and Gentlemen welcome to the Carnival!
This old, goliardic and fun event has been celebrated in the pretty coastal city of Fano (province of Pesaro and Urbino) every year since the 14th century. It provides enjoyment for the locals and tens of thousands of visitors from all over Italy, who flock there to take part in the oldest event of its kind on the peninsula.
For three Sundays every February the huge allegoric floats parade down the city centre streets, which for the occasion are closed to cars. These carri (floats) are handmade by local artists with papier-mâché and represent a satire of Italian society and politics.
The floats parade 3 times accompanied by music, dancers and entertainers and tons of sweets showered on the thousands of onlookers!
Well, it turns out the largest Carnival in Marche is not only the oldest in Italy but also the sweetest. Chocolates and sweets are collected in colourful paper cones that, by the end of the afternoon, are full of goodies of all sorts to be taken back home as trophies. We must say the adults particularly love this event and get to feel like children again, so it is not uncommon to see adults competing with the youngest for the best sweets. A bit unfair, we know but, hey, at Carnival time everything goes!
When the last day of Carnival arrives a large pupo (puppet) is burned in the main square as a catharsis from the vice and indulgence of the preceding three weeks.
What can we say…is this a merry event or what? We believe it is, so please enjoy the gallery by Wilson Santinelli to discover the Carnival and its colours, fun and centuries old tradition.
For more information check  http://www.carnevaledifano.com/
Photos by Wilson Santinelli http://www.wilsonsantinelli.com/it/home/