Natural Tradition and Terroir in the Piceno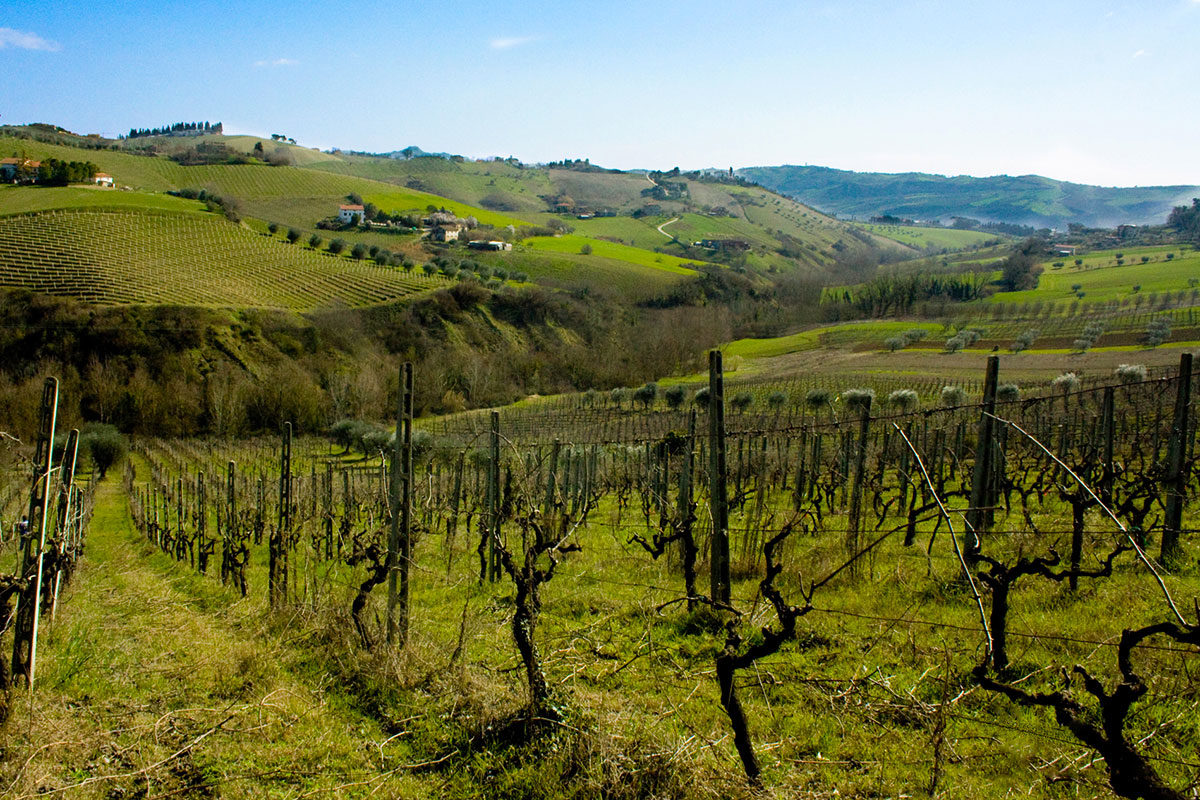 Back in the autumn of 2018, Isabel Carmichael spoke with Rocco Vallorani winemaker and oenologist at Vigneti Vallorani about tradition, making do without chemical treatments, encouraging biodiversity and above all, winemaking that is true to terroir.
Nestled deep in the Piceno hills at Colli del Tronto, Vigneti Vallorani strives to promote organic farming, low interference techniques and wine made in an artisan way. Having not long ago taken over the reins of the family winery, Rocco along with brother Stefano, are putting their home turf on the map, with minimal intervention.
Following in your grandparents' footsteps, you started to produce wine in 2010 alongside your father Giancarlo and brother Stefano. Was winemaking something that you always wanted to do and what experience did you have before then?
I was born and raised on my grandfather's farm, which of course later became my father's. From an early age I would spend my days in the countryside, they worked whilst I played with the dogs and cats, messing around in the mud. I loved to get up on to the tractor, helping out with the grape harvest, stamping on the grapes barefoot. In high school I attended the Istituto Tecnico Agrario in Ascoli Piceno (Agrarian Institute), specialising in oenology. I always wanted to be a winemaker but I never thought about working for the small family business. After high school, I signed up for a course in oenology and viticulture at the University of Perugia during which time I got a lot of experience in alternative wine production and working for private companies (across Le Marche, Abruzzo and Tuscany), obviously in addition to the work we were doing back on the family farm. After I graduated, I moved to Montalcino (Tuscany) where I worked for three years for a well-known winemaker in the area. My background and love for travel has also led me to work in cantinas in New Zealand (for almost two years), France and Oregon in the US and then from one job to another I ended up signing up for a masters at the University of Turin in Viticultural Sciences and Oenology.
It was around the time that I was in New Zealand that I decided to ramp things up with the family business. At the time I had a few job offers out there and also back in Italy, things were going well and I was earning a decent wage.  When I used to finish my shifts I'd leave work pretty free of thoughts, it was easy. At the time however my father used to recount the issues they were having back at home with making the business work [at the time Vigneti Vallorani only sold by the bottle – Ed]. There was stiff competition from other cantinas and dad wasn't able to keep up. He simple didn't have the resources to increase production. Even the price of grapes at the time was low, so it didn't even make sense to sell ours as you couldn't make a decent wage out of it. Dad ended up with two jobs, by day in a local factory and then by night taking care of the grapes and the cantina. He was pretty tired and at that time was even considering selling it all.
My experiences in Italy and abroad taught me loads of things, but the more I compared everything with home, I just couldn't figure out why things weren't working out. What's more, it was becoming more and more obvious that despite the high quality of wines produced, the whole 'New World' scene was just lacking so much in history and tradition. It was basically from that moment that I decided to up sticks and come back home. Along with my brother [Stefano – Ed] we were going to sort out the vineyard, following the dreams of our grandparents and dad, make wine that was true to its terroir and sell it around the world, telling our story and the story of our land along the way.
At the centre of everything that we do should be the land and our traditions. Every winemaker should have the freedom to cultivate wines in the way they think best.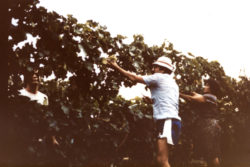 Your grandparents began producing wine and oil in 1963, although the tradition in your family began much earlier, at the turn of the century. Did your grandparents lay the foundations for organic practices and the promotion of biodiversity or is this something that you have done only recently at Vigneti Vallorani?
Everyone who works the land should treat it with due respect and in the past they all knew that essentially their lives depended on it. Back then organic practices weren't really known, people just kind of did as they did, going by personal experiences and those gathered from those around them. My dad started farming organically about 20 years ago, realising that chemical additives weren't the way forward, knowing that we needed to make our processes as natural as possible in order to grow grapes that expressed the most authenticity and a true expression of the terroir. Our house is basically set amongst our vineyards in the countryside so we really live and breathe our grapes. We've really worked at making the winery as ecological and sustainable as possible and have installed a dedicated photovoltaic system (solar panels) – 80% of the energy we use is self-produced – thermally isolating all the rooms and reusing the cellar water.
Fermentation takes place naturally without any oenological additives and without the addition of sulphites in your wines. What makes your wine different because of these processes?
We made a decision to make wines without yeasts or chemical additives because we wanted our vineyards and terroir to fully express themselves. We try to accompany our grapes through their passage from fruit to wine, ensuring they are in the best conditions. Our wines tell a different story depending on the season. They are honest wines that express the terroir of the Piceno, which is of course different from year to year. We tend to only add very few sulphites where necessary, something which we are able to limit as we only work with the best possible harvested fruit.
Are there other winemakers in Le Marche that have a similar approach to you whom you admire?
Our friends at Aurora winery have definitely been a huge font of inspiration for us. Even though our wines have a different style, I've always really liked what they produce and really like the way they promote organic farming, despite its challenges. They were really the first proper organic wine producers in Le Marche and probably some of the first in Italy. Their wines are so unique and offer a real expression of the terroir of this area.
It was becoming more and more obvious that despite the high quality of wines produced, the whole 'New World' scene was just lacking so much in history and tradition. It was basically from that moment that I decided to up sticks and come back home.
What is the most challenging aspect of your job?
There are lots of challenges to be honest, from cultivating the grapes in the vineyard to bottling. Obviously the trickiest aspects begin in the vineyard – without the grapes the rest wouldn't exist! Unfortunately global warming is really changing the way our climate behaves. Back in the olden days we rarely saw some of the weather conditions that have taken place in recent years: hail storms, floods and strong winds. What's more, even though temperatures have risen, we are noticing more rainfall and summer storms. As we only use organic products to treat our grapes (copper and sulphur) that don't actually get into the vine's internal system and rather work externally via contact, so between May and July the risk of the vines developing mildew is pretty high.
Is there one person who has influenced your style of winemaking more than anyone else?
I've been lucky enough to have the pleasure to work with a number of oenologists and wine producers all over the world, each one of them giving me something. Even those who don't necessarily think in the same way to me have been influential and have helped me to grow. I think I carry around a bit of all of them.
What's the biggest lesson you've learned during your winemaking career?
I've learnt a lot of lessons, so I'd say that the actual real lesson is that you never stop learning, and in viticulture and oenology there really aren't rules. In fact, I'd say it's really the rules that are the problem in this sector. Every varietal and every terroir need to be treated entirely differently so that they are able to express themselves in the most natural way possible.
Last year we lost the great winemaker Stefano Bellotti of Cascina degli Ulivi in Novi Ligure. He was a pioneer of natural winemaking and worked to foster his winemaking philosophy in Italy and beyond, influencing many winemakers. Do you think that the need to keep things natural and preserve biodiversity and promote a healthy soil is something that is becoming more and more important for Italian winemakers today?
Stefano and all those who worked naturally before him have contributed to deregulate the system, something which I think we can all be hugely grateful for. Today there is surely way more interest and understanding in natural wines. Unfortunately the bigger and more commercial producers have also cottoned on to this, meaning that they too are trying everything to seem small and natural, managing to fleece unwitting consumers. Another major problem that is undervalued is that in the so-called 'social media era' the way we learn and source information is limited to those we choose to follow. This makes a sort of echo chamber effect and this way of getting information means that people tend to surround themselves only with those who think in the same way as them. This behaviour is also taking effect in the wine sector where the extremists only look one way. In my opinion, without contrast we can't grow and I think that as winemakers we need to unite rather than divide ourselves over who uses one gram or more of sulphites. At the centre of everything that we do should be the land and our traditions. Every winemaker should have the freedom to cultivate wines in the way they think best.
What is your opinion of winemaking in general in Italy today?
It's a hard question and not something I can easily answer just like that! I'd use a quote by French oenologist and taste philosopher Jacques Puisais who founded the Institut du Goût in Paris:
"Terroir – the measurement of any great wine, is soil, climate and man, in about equal proportions. Of the three, man is the most important because he can manipulate the impacts on the other two".
At the time of our conversation, Vigneti Vallorani were harvesting. What can we expect from the grapes you are picking? Did the summer's instability prove challenging?
This year, as has been often the case for the past few years, spring was characterised by mild weather and frequent rain fall. These are the best conditions for microbes to develop, unfortunately at a time when the vine itself is at its most fragile. So we had many more issues and more work, but we did manage to keep our vines healthy. The summer was hot and relatively dry so maturation ended up happening a week earlier than usual. The grapes were perfectly healthy and mature so when it came to selecting the grapes it was pretty easy as they were all good. Since real wine is made out in the vineyard, we won't have to do much more with this vintage as the quality is already there.
Vigneti Vallorani organises a number of wine and music events during the summer, what can we expect at the cantina in 2019?
We really love art in all of its forms, something hopefully you can tell from our wine labels. Art and wine go hand in hand and have the capacity to tell stories and really strike a chord with people. Every so often we end up taking part in really formal tastings where everyone is sitting down in silence in front of a collection of glasses. It reminds me that we really need to take wine less seriously. Wine is about being sociable and accompanies special moments with those we care about. Many people don't feel like they are experts so they are almost scared to come and visit us because they know that our wines are sold in expensive restaurants. We wanted to try and get in touch with these people and teach them that the same bottle you find in a restaurant with three Michelin stars can also be enjoyed dancing bare foot in a field in the Piceno hills. For the last few years we've organised a one off event at the end of July / early August where we invite a local chef and serve traditional dishes (usually around four) that pair well with our wines. We get a swing band in, at the beginning everyone is slightly awkward but after a few glasses they all end up dancing bare foot until dawn! We are already thinking about the 2019 edition of A Taste of Swing!
Where in the Ascoli Piceno province can we expect to find your wines?
You can find them in a number of restaurants and wine shops in Ascoli and across the region and what's nice is that we personally know most of the owners of the places that sell them. Most of them have been to visit us at the winery at some point to see where the wine comes from. These are people who don't just want to serve up the trendy wines, they want to offer different and interesting wines that represent our terroir.
What does it meant to be Marchigiano?
I'm proud of where I'm from. Le Marche is a beautiful region with wonderful people. Our region is the only one in Italy with a pluralised name and this sense of plurality is something that can be seen in many of its characteristics that make it so unique, from its landscapes, traditions to dialects. From the Apennines to the Adriatic beaches and winding hills where we produce our wines, here you find the beauty of Italy in one. Our region has always been a crossroads and thanks to this there is a plethora of diverse and unique traditions. That said, there is nevertheless a strong sense of identity here. The fact that many people traditionally work in agricultural jobs in the region has definitely influenced our welcoming and straightforward character.

vignetivallorani.com | rocco_vallorani
Translated from Italian by Isabel Carmichael
This article was originally posted on cremafritta.com on 17th January 2019
Images 1 & 2 of Vigneti Vallorani vineyards © Vigneti Vallorani | Images 3 & 4 of Vigneti Vallorani vineyards © Crema Fritta