It wouldn't be Le Marche without a plate of Crema Fritta: The Recipe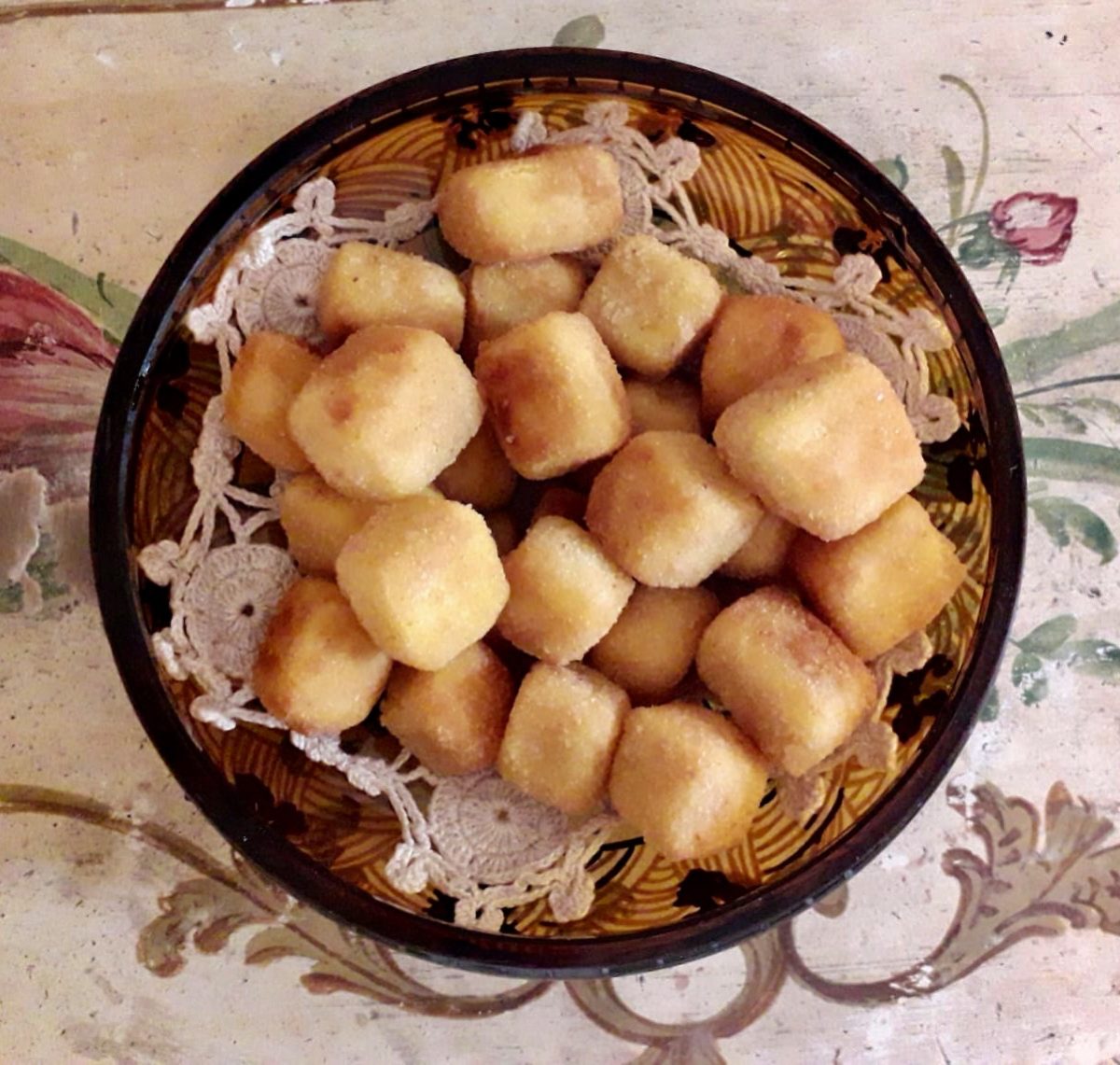 This dish is a symbol of the southern provinces of Le Marche. To disambiguate, it's not fried 'cream' as the name suggests, it is actually more of a fried custard which is cooled until it becomes firm, before being coated in batter and fried until it's crispy and golden in colour.
In the Ascoli Piceno province, you'd be hard pressed to not find crema fritta on the menu. In other parts of Italy you might find something similar but it will often be served as a dessert or made specifically as part of a special religious festival (such as Easter). In south Marche, this speciality is almost always served before dinner, piping hot alongside a number of other traditional fritti which are savoury, including stuffed and fried olives or olive all'ascolana, as they are known in Italian, as part of your starter or aperitivo.  The mixture of savoury fried bites with a touch of sweetness, thanks to the crema fritta, really is one of the most characteristic tastes of this part of Le Marche.
These days, modern Marchigiani don't tend to make crema fritta at home, unless they are skilled at following a trusted family recipe, but most will know the best place to buy it for special occasions or for a quick snack on the go.
This version is based on a classic recipe, the result is a batch of nicely toasted cubes which are firm to the touch and soft but not runny on the inside.
Ingredients
1/2 litre of fresh organic whole milk
4 fresh organic eggs (1 whole egg, 3 yolks)
130g cane sugar
140g plain flour
Rind of 1 lemon
1 cinnamon stick
1 knob of butter
Pinch of salt
For the coating
2 eggs
2 tablespoons plain flour
2 tablespoons breadcrumbs
Sunflower oil for frying
Cooking time, 1 ½ hour plus additional time to allow your custard mixture to
cool down.
Serves many
Crack your eggs (1 whole egg and the 3 yolks) into a mixer or deep mixing dish with 130 g of cane sugar. Beat for a few minutes before adding 140 g of flour and a pinch of salt. Continue to blend the mixture for another few minutes, adding a small amount of milk to help bind the ingredients together.
Meanwhile add the rest of the milk into a medium sized saucepan and boil it with the cinnamon stick and lemon rind. Let the milk cool down and when it is lukewarm remove your cinnamon stick and lemon rind. Slowly add this milk into your mixer or mixing bowl and continue to mix together the ingredients.
Once your mixture is perfectly combined pour it into your saucepan and bring it to the boil for a few minutes, mixing it with a wooden spoon as you do.
When the custard has thickened, turn down the heat and add a knob of butter in pieces to the mixture.
Meanwhile prepare your container. Lightly grease a square dish (a normal oven dish will be fine) with a small amount of oil and then dust with flour. It must be at least 2 cm in height. Place the cooled custard mixture into your dish before placing it in the fridge for at least 2 hours or until it becomes firm.
Once your custard is ready, begin to cut it into cubes using a knife. These cubes can then be coated in four, lightly coated with raw beaten egg (use your 2 eggs reserved for the coating), before finally being coated in your bread crumbs. Remember to handle your custard cubes with care as they are very delicate at this stage.
In another pan prepare your remaining oil for frying. When the oil reaches about 170 °c, begin frying your custard cubes in small batches – for a minute or until the coating becomes a light golden brown colour. Don't over touch or move the cubes whilst they are being fried as to avoid breakage.
Once your crema fritta looks ready, delicately remove it from the oil using a skimmer and place the cubes onto a piece of kitchen towel to remove excess oil. Serve hot with fritto misto (olive ascolane, cotolette, costolette, carciofi e salvia).
This recipe was originally posted on 7th September 2018 on cremafritta.com